Nested-based Machining

It pays to compare.

Want to test the efficiency of our nested optimization and code? Send us some sample data and we'll be happy to process it and send you the ready-to-use results.
Nested-based machining makes use of a single machine to both cut out the individual parts and to machine those parts. An additional machine, like a horizontal borer/dowel inserter, may be used depending on assembly methods.
Efficient optimization.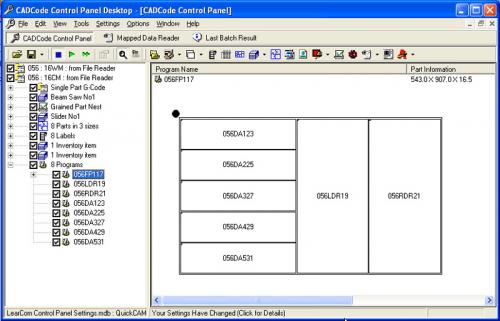 Critical to nesting is making the most of the materials as well as efficient movement of the router head to minimize machining time. Both factors – material use and machine/operator time – relate to bottom-line profitability.
Flexible part handling control.
Equally important is making sure the parts stay in place as they're being machined – this is particularly true of smaller parts. CADCode provides accurate, highly efficient code for maximum yield from your panel goods and fast machine run-time. CADCode gives the user multiple ways to control nest machining to deal with small parts, including tabbing, machining order, multiple passes, and onion-skinning. Other important features include graining control and dynamic editing of the nest layout.
Manage all aspects of production.
CADCode will readily produce code for single parts as well as code for a full nest of parts, allowing you to choose and manage both a nested-based approach and a single parts-based approach to manufacturing. As with other CADCode solutions, you can read and combine parts information from multiple sources, post to multiple machine controls, and generate part labels all at the same time. Create and store multiple tool profiles to simplify switching between machines and setups. CADCode readily expands your capabilities as your company grows and adapts to supply market demands.